The Synagogue des Tournelles offers shabatic meals, see Community meals for more details.
Around 80 people were present! It was a success!
Opening after COVID-19 : Thursday 4th June
The Synagogue is now again opened. Please follow the rules indicated below when you will come:
Don't shake hand to anybody
Put a mask inside the Synagogue
Respect allocated places we will give to you
Wash your hands with hydro alcoholic solution, before to enter and after the service
We don't lend prayer book, talit, tefilines, so please bring your own
Don't touch anything in the Synagogue (door handle, sefer Torah, ...)
Respect a distance between the 'hazan and you of 2 meters, even before Torah reading and after Torah reading
No seuda will be served
Don't stay in the hall of the Synagogue and before the entrance
Before to enter or to go out, respect a distance of 1 meter with other people
Please watch this video to see the rules:
Last News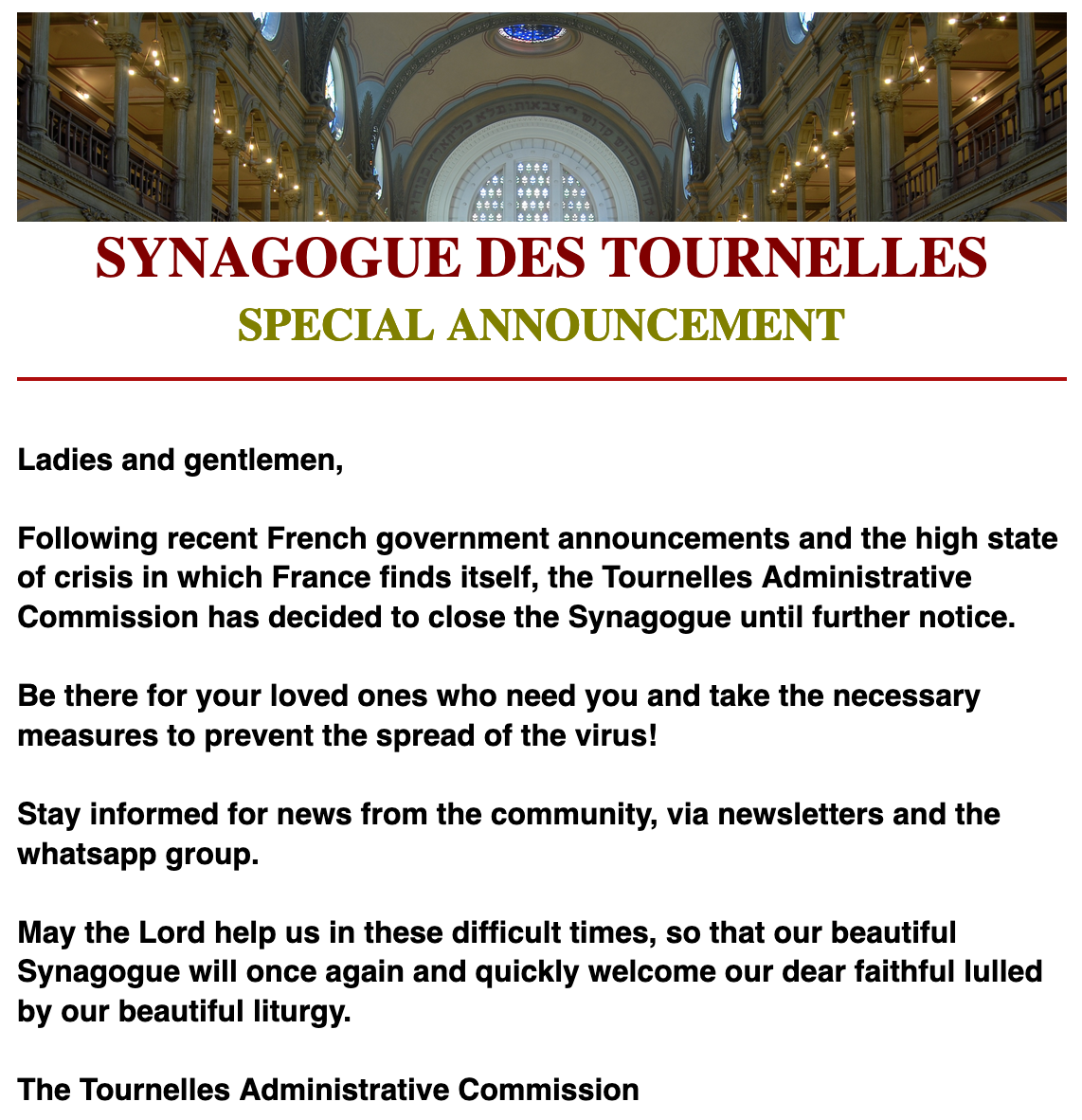 Soon Purim!
Esther Fast - Monday 9 March
Purim - Monday 9 March on evening until Tuesday 10 March evening
- 1st reading of Esther's meguila at 7.30 pm, Monday 9 March
- 2nd reading of Esther's meguila, after Sha'harit service, at 8.00 am the Tuesday 10 March
- 3rd reading of Esther's meguila at 11.30 am, followed by the Mishte (feast) of Purim, followed by a musical afternoon with games, around a buffet‍, Tuesday 10 March
If you want to come to the Mishte on 10th march, please send an email to This email address is being protected from spambots. You need JavaScript enabled to view it. to subscribe. Price : 20 Euros per person.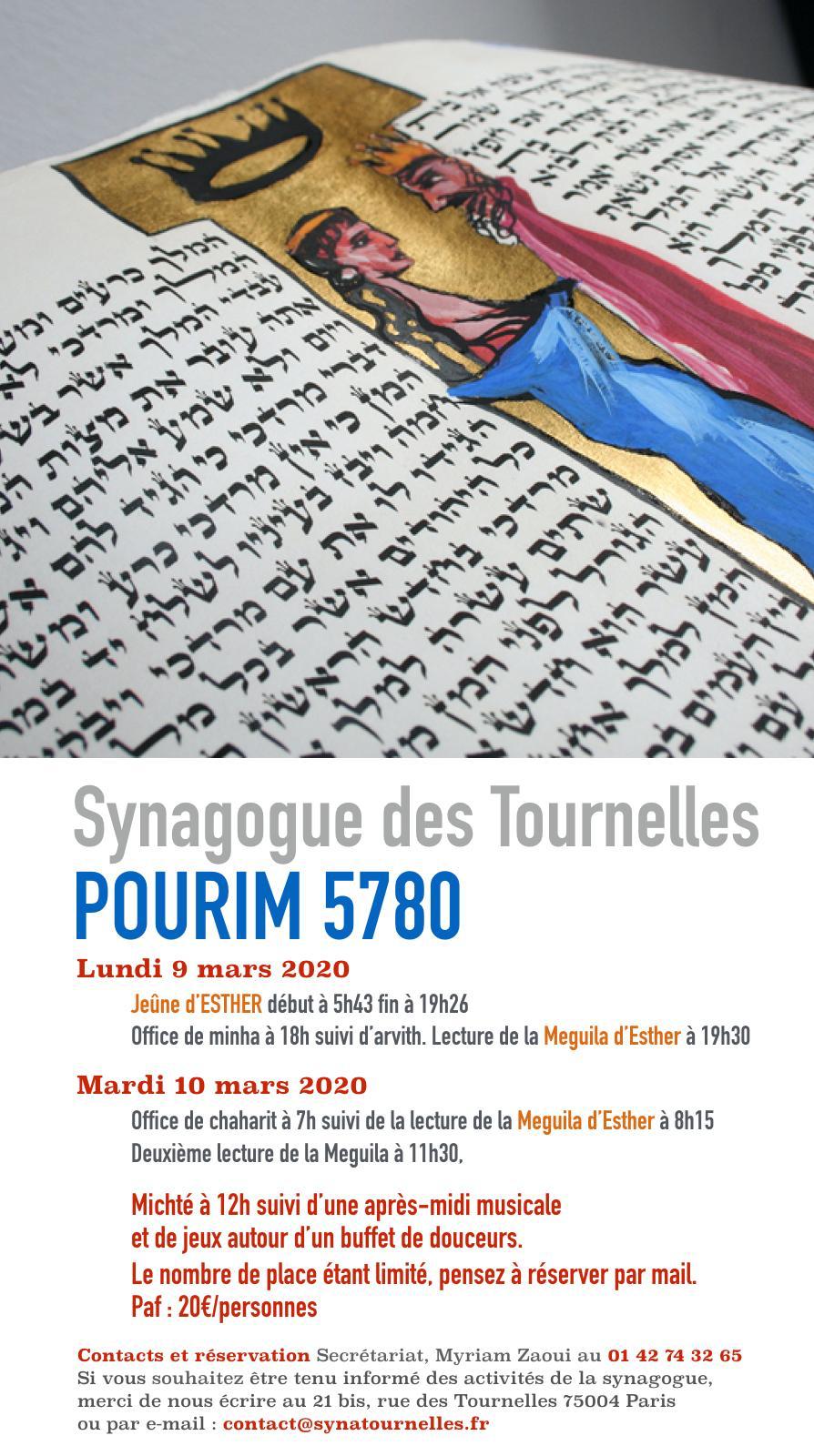 Saturday 22 February : Shabat meal
Please send an email at This email address is being protected from spambots. You need JavaScript enabled to view it. if you want to join for this Shabat's meal which will be on Saturday 25 January, at lunch time, after Mussaf service.
You can call also the following number to make a reservation : +33 6 60 11 28 35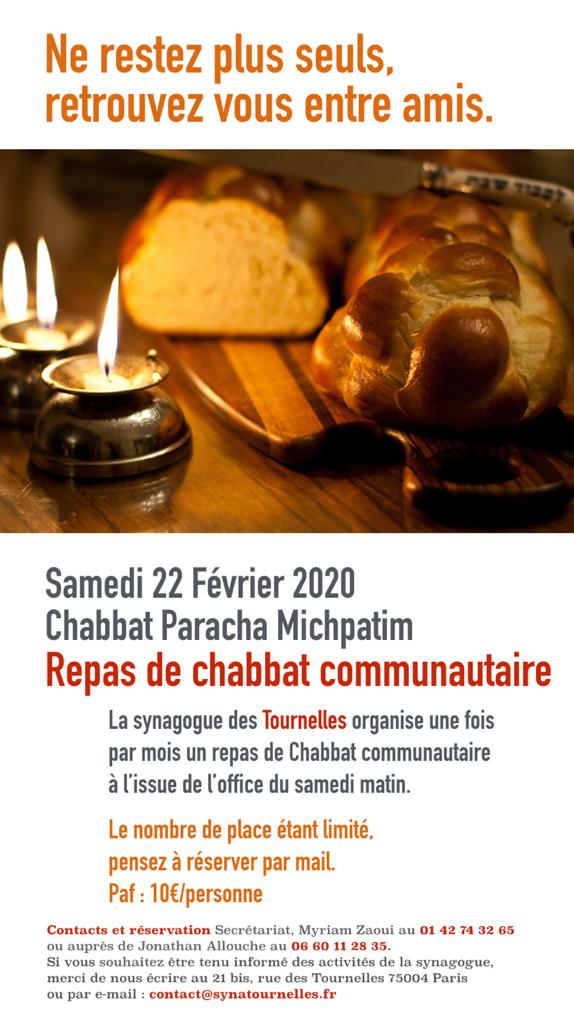 Sunday 9 February : Tu Bishvat
The Synagogue des Tournelles invites you for Tu Bishvat's Seder, this Sunday at 6.30 pm :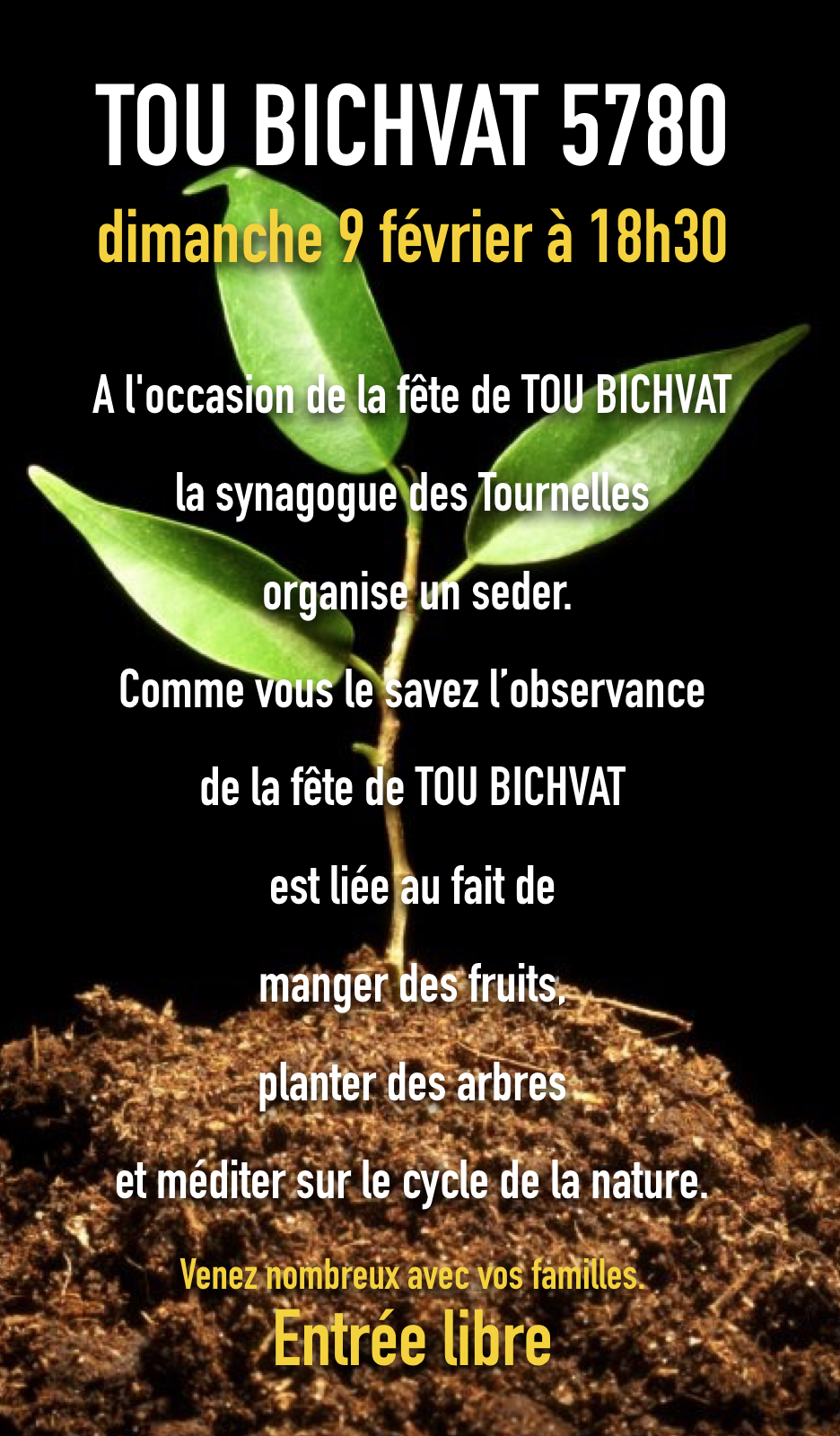 Saturday 25 January : Shabat meal
Please send an email at This email address is being protected from spambots. You need JavaScript enabled to view it. if you want to join for this Shabat's meal which will be on Saturday 25 January, at lunch time, after Mussaf service.
You can call also the following number to make a reservation : +33 6 60 11 28 35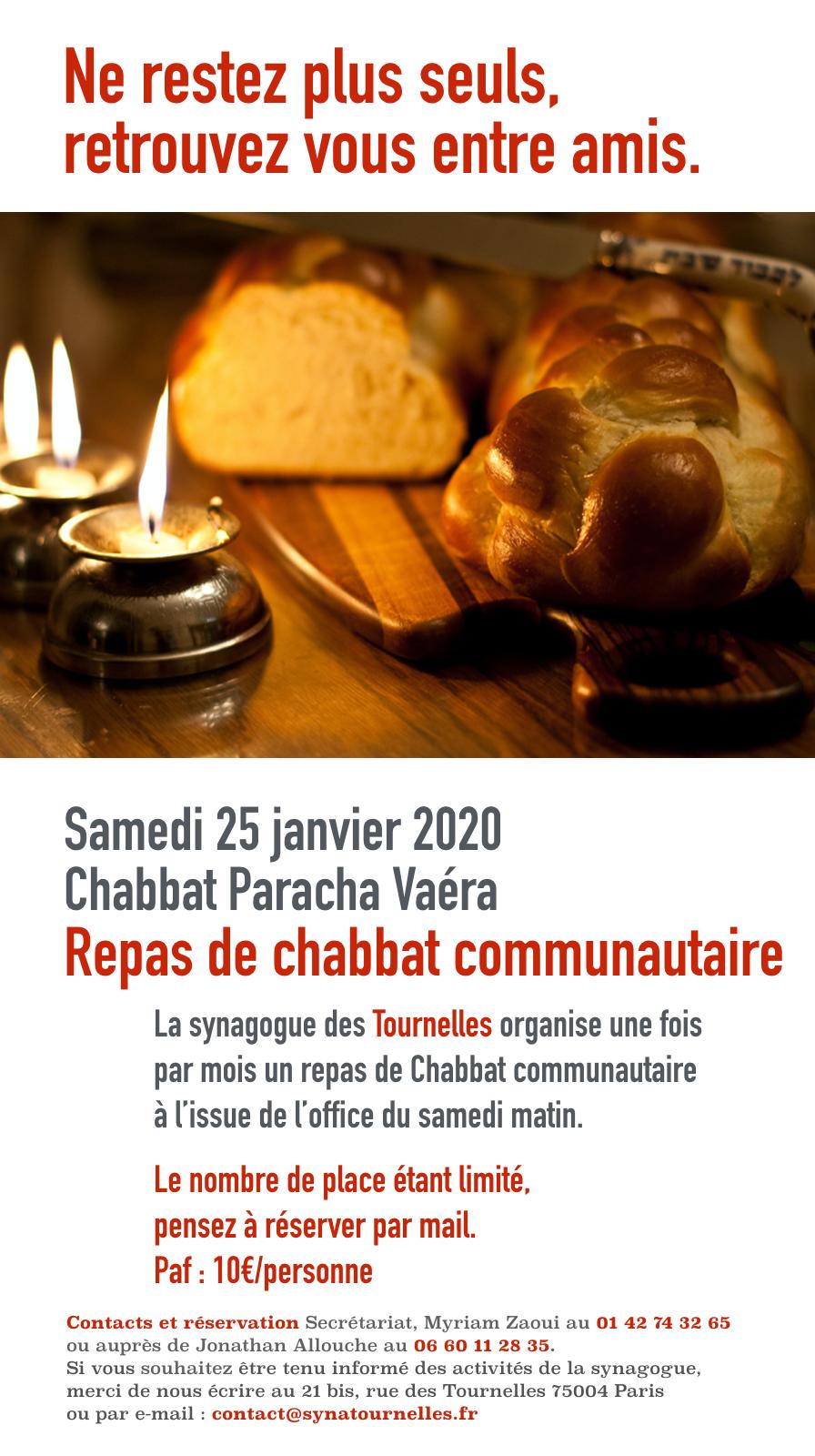 'Hanuka Festival - From 22 December until 30 December
Sunday 22 December evening
Arvit : 4.50 pm Lighting of the 1st candle
Monday 23 December
Sha'harit: 7.00 am
Reading of Torah for 'Hanuka (3 people called) - Parasha of Numbers (Nasso)1st alya chapters 6 (25 to end) and 7 (1 to 3), 2nd alya chapter 7 (4 to 11) and 3rd alya chapter 7 (12 to 17)
Min'ha : 4.35 pm
Arvit : 4.50 pm Lighting of the 2nd candle
Tuesday 24 December
Sha'harit: 7.00 am
Reading of Torah for 'Hanuka (3 people called) - Parasha of Numbers (Nasso)
1st alya chapter 7 (18 to 20), 2nd alya chapter 7 (21 to 23) and 3rd alya (reading of 2 last alyot)
Min'ha : 4.35 pm
Arvit : 4.50 pm Lighting of the 3rd candle
Wednesday 25 December
Sha'harit: 7.00 am
Reading of Torah for 'Hanuka (3 people called) - Parasha of Numbers (Nasso)
1st alya chapter 7 (24 to 26), 2nd alya chapter 7 (27 to 29) and 3rd alya (reading of 2 last alyot)
Min'ha : 4.35 pm
Arvit : 4.50 pm Lighting of the 4th candle
Thursday 26 December
Sha'harit: 7.00 am
Reading of Torah for 'Hanuka (3 people called) - Parasha of Numbers (Nasso)
1st alya chapter 7 (30 to 32), 2nd alya chapter 7 (33 to 35) and 3rd alya reading of 2 last alyot)
Min'ha : 4.35 pm
Arvit : 4.50 pm Lighting of the 5th candle
Friday 27 December
Sha'harit: 7.00 am
Reading of Torahfor 'Hanuka (3 people called) - Parasha of Numbers (Nasso)
1st alya chapter 7 (36 to 38), 2nd alya chapter 7 (39 to 41) and 3rd alya (reading of 2 last alyot)
Lighting of the 6th candle before entering of Shabat (before 4.41pm in Paris)
Min'ha : 4.35 pm
Reading of Shir Hashirim : 4.50 pm
Kabalat Shabat followed by Arvit of Shabat : 5.05 pm
Saturday 28 December - Shabat Rosh 'Hodesh - 30 Kislev
Sha'harit followed by Mussaf : 9.00 am
Reading of Torah
1er Sefer : parasha Miketz - 6 people called
2nd Sefer : parasha of Rosh 'Hodesh - Numbers, chapter 28 (9 to 15) - 1 people called
3rd Sefer : parasha of 'Hanuka - Numbers, chapter 7 (42 to 47) - 1 people called
Haftara : book of prophets, Zechariah chapter 2 verse 14 to chapter 4 verse 7
Sermon of Rabbi Marciano before coming back of Torah
Service of Mussaf followed by a Kidush
Min'ha : 4.15 pm
Reading of Torah- parasha Vayigash - first section
Seuda shlishit and course of our Rabbi : 4.45 pm
End of Shabat - Arvit motzaei Shabat with Havdala : 5.55 pm
1st Tevet – Second day de Rosh 'Hodesh
Lighting of the 7th candle before Havdala at Synagogue, after Havdala at home
Sunday 29 December - 2nd day of Rosh 'Hodesh – 1st Tevet
Sha'harit: 8.00 amReading of Torah
1st Sefer : Parasha of Numbers - chapter 28 (1 to 15) - 3 people called
2nd Sefer : Parasha of Numbers for 'Hanuka - chapter 7 (48 to 53) – 1 people calledMin'ha : 4.40 pmArvit : 4.55 pm Lighting of the 8th and last candle

Monday 30 December
Sha'harit: 7.00 amReading of Torah for 'Hanuka - Parasha of Numbers - 3 people called
1st alya chapter 7 (54 to 56), 2nd alya (57 to 59), 3rd alya (we read again from verse 54 chapter 7 until verse 4 chapter 8)
Min'ha : 4.40 pm – end of 'Hanuka after service