Preamble


By its frequentation, the Synagogue of the street of the Tournelles is today the syncretism of the customs and uses of the Sephardic communities of Andalusia and North Africa and in particular Constantine who arrived there from the middle of the 1950s.

In addition to the objects of ancient cults reported by families during their uprooting ("Yad" = hand for reading the Torah, Sefarim, purple and gold velvet hangings, Chairs Milot ...), this article summarizes the uses of the 11 synagogues and oratories which counted the City of Constantine nicknamed in his time "small Jerusalem of Algeria".

Constantine's rite has gradually been enriched with the help of the many families of Algerian origin, Sétifiennes, Oranaises, Bonoises, Moroccan, Tunisian, Lebanese ...

The side walls of the ground floor of the Synagogue are now adorned on each side of "Paroh'et" (hanging of the Holy Ark) reported from the various synagogues of Constantine: Midrash Temple of Thiers Street, Algiers Temple from the Negrier Square (Slat EDZRIA), from the Twin Synagogue Slat Ejdida from Damrémont Street, from the Sidi Bahé Synagogue below the two previous ones, from the Synagogue by Rbé Messaoud Zerbib (zal - author of the remarkable book "Zerah à Emet" ) from José Ksentine Street, Solomon Amar Synagogue located in the former Palace of Justice at the Consistory headquarters, to name just a few of the main ...

For more information on the synagogues and Rabbis of Constantine, you can consult:

The work of Alain Guedj in french : Constantine Cirta.

The websites: the Jews of Constantine (website of association AJOC in french) and "Constantine Minhaghim".
The book of Charley Goeta in french : La mort du Mouton.
The book of Paul ATTALI in french : Les Tournelles une Grande Synagogue Parisienne.
Photo Albums
You can see the album of the Synagogues of Constantine.
You can also see the album of paroh'ot (curtains of the Holy Ark in Constantine Synagogues).
Finally some pictures of our Rabbis of Constantine (below left the Chief Rabbi Sidi Fredj Halimi, on the right the Rabbis of Constantine):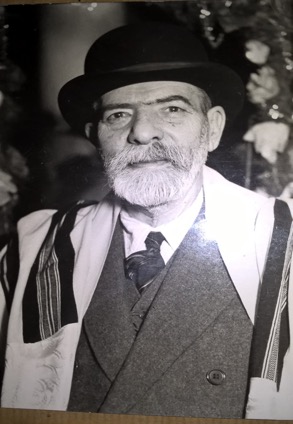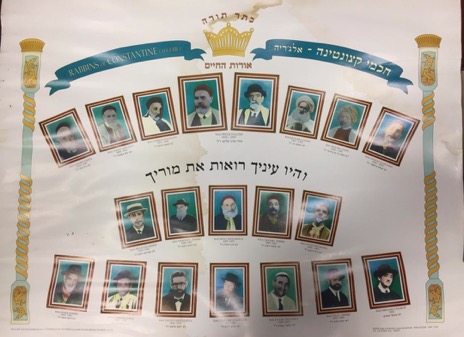 To know more about the Rabbis of Constantine, visit the website of AJOC association.